Of all the criminal activities that dominated news headlines in Lagos State in 2017, the serial ritual killings in Ikorodu area, also known as "Badoo Killings", was perhaps the most talked about among Lagosians last year.
What generated further fear among residents was the peculiar modus operandi of Badoo and its seemingly intractable and invisible nature. As the killings went on for months, the affected communities and state security apparatus appeared clueless until it was nip in the bud toward the end of the year.
It all started after a suspect, described by some residents of Ikorodu area as a "serial rapist and ritual killer", was arrested at Ibeshe. His name was given simply as "Badoo".
The News Agency of Nigeria, NAN, gathered that after every attack, the perpetrators would write "I am Badoo" and paste on the door of victims.
This continued in a seemingly invincible manner until he was caught after he raped and killed a 27-year-old woman and her nine-month-old child. The suspect was arrested by the community, allegedly after some rituals were performed.
Many had believed that the arrest of the suspect would bring an end to badoo operations. But that did not happen as it marked the beginning a journey into new dimension of ritual killings in the area as many more family members were murdered at night.
For several months, Badoo operations in Ikorodu area reverberated across the state and created fear among Lagosians at large. The police appeared overwhelmed. Human and vehicular movements in parts of Ikorodu were restricted during the period.
Many communities imposed dusk-to-dawn curfew while some residents moved out to other areas for safety.
Embarrassed by the continuous Badoo killings, the then Commissioner of Police in Lagos, Fatai Owoseni, met with traditional rulers in the areas and read riot acts to royal fathers who might be complicit in the killings.
Residents did not watch idly either, as many resorted to jungle justice, killing those identified as Badoo cult members during mob actions after losing faith in police ability to arrest the ugly trend.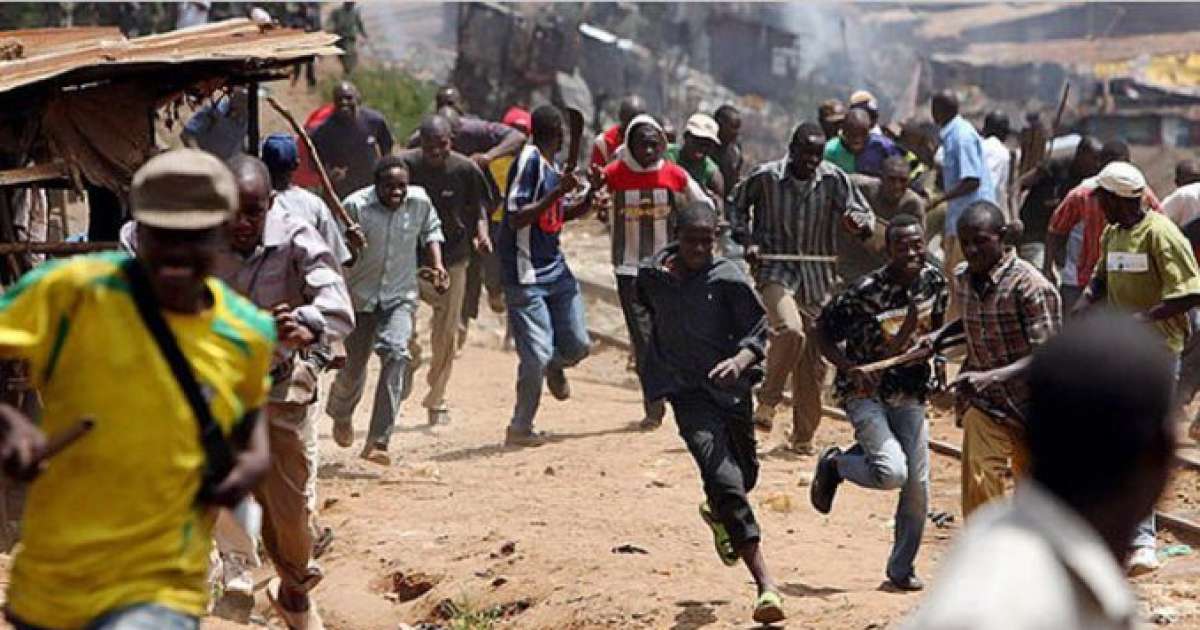 According to NAN findings, Badoo members carried no guns or machetes. Their weapons are primarily stones, preferably household grinding stones and mortar, clubs and pestle.
They carried out their operations by sneaking into targets' homes at night and smash their heads with grinding stones or mortars, then collect their blood with handkerchiefs, which were sold for ritual purposes.
Unofficial sources say more than 30 persons were sent to their early graves while Badoo reign of horror lasted.
In joint operations between Oodua People's Congress, OPC, men of the Onyabo, a local vigilante group and the police, led by the then Lagos Deputy Commissioner of Police in charge of Operations, (now Commissioner of Police), Edgal Imohimi, many of the suspected members of the cult group were caught.
Chief Gani Adams, OPC National Coordinator, said some prominent Nigerians were allegedly behind this criminal act.
"From our findings, the Badoo boys don't use guns or machetes. They use big grinding stones or pestles to kill their victims in the wee hours of the night.
"So it is sad, but now the police are investigating and we are supporting them with information and strategies to ensure that Ikorodu remains safe for residents."
"Ikorodu has gradually become a safe hideaway for criminals. Of all the cultists in Lagos State, Ikorodu alone has about 30 per cent. That is bad.
"I am happy that the police have done the needful. With the new strategy, I believe the issue of Badoo in Ikorodu will soon become a thing of the past," Adams said when he met Mr Imohimi over the killings.
The Chairman of the Lagos State Neighborhood Safety Corps, Israel Ajai, a retired Deputy Inspector General of Police, who said he was worried over the Badoo killings, describing it as bizarre, fetish and ritual.
Christopher Oji, a security expert, told NAN that badoo operation was a new wave of crime mistaken for assassination when the cult group started total elimination of families.
"During investigation, it was discovered that the killings have ritual undertones. Someone pays for the blood of the innocent which he uses for money making rituals.
"The poverty level in Nigeria is alarming. People threw conscience and morality to the dust bin. Well, the police is addressing the issue, using local vigilance groups, neighborhood watch and traditional institutions to fight the war against badoo.
"The effort of the police is paid off as more suspects have been arrested. Through their confessions, those believed to be their sponsors have been declared wanted. Secondly, the police have also been raiding suspected members and destroying their shrines.
"They should intensify action so that they will have no hiding place," said the security expert.
He advised government of neighbouring states to ward off the badoo cult members from infiltrating their areas.
"There should be intensive raiding and motorised patrol. Police should involve other security agencies in the war against badoo," Oji said.
By the end of last year, over 500 suspected badoo cult members have been arrested. Many were charged to court while others were still under investigation, thus bringing their heinous crime to the lowest ebb.
Mr Imohimi, who also met with traditional rulers at the palace of Anyangburen of Ikorodu, Oba Adewale Shotobi, led operatives to demolish many badoo strines in the area. He charged the traditional rulers in the area to join hands with the police to eradicate ritual killings and other criminal activities from their communities.
The recent renouncing of membership of cult groups by some youths in Ikorodu will also help improve the security situation in the area.
The Ikorodu monarch noted that crime rate had dropped in the area and pledged the support of his chiefs and subjects to ensure that the tempo was sustained.
It is, therefore, imperative that all hands must be on deck to ensure that security of lives and property in Ikorodu and other parts of Lagos State remains a top priority in the New Year.
NAN